There's lots to see in Nara and the Nara Park, aside from deer. The park is filled with grand historical temples, and Todaiji Temple is the most famous of them all mainly for its gigantic indoors Buddha statue. Though I did the trip to Nara after a major temple fatigue from a few days in Kyoto, this temple did not disappoint, it's absolutely gorgeous, and the Buddhas inside are indeed very impressive. Beware, though, that going on a weekend like I did means that it will be absolutely packed, oddly enough with traveling school-groups (?!). But still, a sight to behold, a terrific attraction.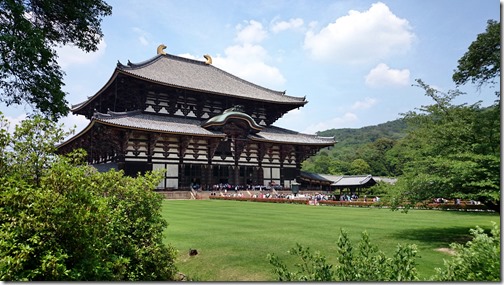 The Japan Guide explains :
Todaiji (東大寺, Tōdaiji, "Great Eastern Temple") is one of Japan's most famous and historically significant temples and a landmark of Nara. The temple was constructed in 752 as the head temple of all provincial Buddhist temples of Japan and grew so powerful that the capital was moved from Nara to Nagaoka in 784 in order to lower the temple's influence on government affairs.

Todaiji's main hall, the Daibutsuden (Big Buddha Hall) is the world's largest wooden building, despite the fact that the present reconstruction of 1692 is only two thirds of the original temple hall's size. The massive building houses one of Japan's largest bronze statues of Buddha (Daibutsu). The 15 meters tall, seated Buddha represents Vairocana and is flanked by two Bodhisattvas.

Several smaller Buddhist statues and models of the former and current buildings are also on display in the Daibutsuden Hall. Another popular attraction is a pillar with a hole in its base that is the same size as the Daibutsu's nostril. It is said that those who can squeeze through this opening will be granted enlightenment in their next life.

Along the approach to Todaiji stands the Nandaimon Gate, a large wooden gate watched over by two fierce looking statues. Representing the Nio Guardian Kings, the statues are designated national treasures together with the gate itself. Temple visitors will also encounter some deer from the adjacent Nara Park, begging for shika senbei, special crackers for deer that are sold for around 150 yen.

A new addition to the temple is the Todaiji Museum, which was opened to the public in 2011 just next to the Nandaimon Gate. Rotating exhibitions from the temple's large collection of religious art and cultural treasures, including large Buddhist statues, are held at the museum.

Todaiji's grounds are spacious and cover most of northern Nara Park, including a number of smaller buildings in the hills to the east of the main hall. These include Hokkedo (also known as Sangatsudo) and Nigatsudo. The Nigatsudo Hall offers nice views of the city from its balcony, and is the site of the spectacular Omizutori ceremonies, which are held annually March 1 through 14.
Let's have a look inside…
Location:
Definitely a must if you're visiting Nara and the Nara Park.