This week I moved to a new apartment in Hong Kong. The university, for the second time, has announced that I'm no longer entitled to university apartments and so I was forced to try and find a decent room elsewhere in Hong Kong. I was finally able to find one in the lovely residential area of Ocean Shores in  Tiu Keng Leng.
Let me tell you, it's been a nightmare. Hong Kong is a very expensive place to live with generally very bad value for money. I knew it was bad, but just how bad really took me by surprise. I can't even begin to describe some of overpriced horrors I've seen in the three weeks of looking for an apartment. Landlords and agents were asking for insane prices for shoebox rooms with impossible terms. The first few landlords I've met with an agent next to Hang Hau didn't even blink when they stated that because I'm a student and a foreigner I'm expected to pay a year in advance + 3 months deposit + 1 month agent fee. I just couldn't help myself from bursting into an uncontrollable laugh when I first heard it. When I realized this is not a joke, and was nonnegotiable, I quickly said my goodbyes and left. Granted, I had my own difficult terms – I needed a short-term & furnished apartment, preferably with no agent fees or with only a small deposit, and I wanted it to be somewhere decent and to feel comfortable. Many wonderful people have offered their help, but it all led to nothing. In the last week I was just about to give up, looking at Shenzhen and Taipei as options, or even heading back to Israel, when out of nowhere came this flat in Tiu Keng Leng I moved into this week which was everything I hoped for and for a price I could afford.
I've now had a chance to get a glimpse into how middle-class Hong Kong people live with those insane skyscraper cities, and I must admit it's a very comfy life.
Tiu Keng Leng is ideal for me in terms of location. It's on top of two lines in the MTR which means it takes me exactly 25 minutes on the MTR+minibus to the university and 10-20 minutes to Hong Kong Island or Kowloon. Being at the university before that, things seem much more approachable now.
But I think the more interesting thing to note is what life in those Hong Kong new residential neighborhoods looks like. This apartment complex I live in is called Ocean Shores and it's a fairly new complex on the MTR connected to a series of shopping malls and on top of each of those shopping malls are monstrous skyscraper residential buildings. Here, this is what it looks like …
If you look closely you'll notice two things. One, is there is some empty green space. Fear not, it's already designated for a few more skyscrapers and a park, and they've already started building. The second thing is that next to the MTR station is an interesting building, perhaps one of the most intriguing designs I've seen in Hong Kong, and that's the private Institute of Design, which attracts some very good looking young student crowds to this area.
I'm on the 40th floor (!! out of 53), and this is what it looks like from my room…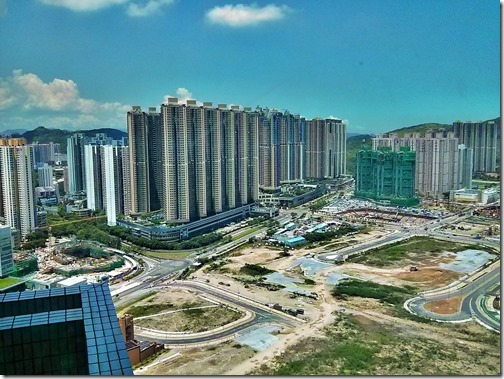 In terms of facilities, this place is really top notch. Every one of the 16 buildings has one of the following :
A kids playground…
An outdoor swimming pool…
A few indoor swimming pools…
Study and newspaper reading rooms…
Computer stations with Internet…
Pool tables…
Basketball courts…
Pingpong/squash courts…
Bowling alleys…
Tennis courts…
And a wonderful gym.
It's all not too far away from the water, if you're up for a walk or a ride on the bike…
In case you're wondering. All the MTR stops from Tiu Keng east – Tseun Kwan O, Lohas Park , Hang Hau, and Po Lam are built on a similar principle with Tseun Kwan O and Lohas Park perhaps being the nicest of the them all and Po Lam the least appealing.
The price for a two bed-room apartment with a living room in an apartment which includes all facilities is ~15000HK$/month, in case you're wondering, and I'm sharing with another expat flatmate taking the smaller room.
Overall, I've been very lucky. It's nice to finally be able to discover and enjoy middle-class life in Hong Kong. It's been long overdue.