This is the number one reason why I would have serious reservations regarding living in Shanghai. It's horrible looking, disgusting at times, and no one knows for sure but most agree that it's extremely hazardous to your health. The pollution in Shanghai – and I have lived in some highly polluted locations – is quite extraordinary. It's the kind of pollution that you can taste in your mouth and doesn't go away even on a relatively good day.
Why mention Shanghai's pollution now? because when I went up to one of Shanghai's tallest buildings to enjoy the view from the observation deck, it only then occurred to me just how horrible things are. And no, this was not a special weather day or some wind creating a bit of a fog. If you search through Google Images and look at most photos taken by average visitors to Shanghai, this is –sadly – what you're most likely to see most days. And this is while expo is running and the Chinese government is doing what ever is humanly possible to control the situation. A couple or so years back, I'm told, it was actually much worse.
Perhaps it's worth saying a few things about the Jin Mao Tower and Observation Deck, just in case you happen to arrive in Shanghai on one of the (decreasingly occurring) clear days.
Jin Mao is not the only choice in Shanghai now a days, and in recent years it's even not the highest one, but it is considered a "classic", if only to enable you to take a closer look at some of the newer buildings from above.
Wikipedia has the background :
The Jin Mao Tower (simplified Chinese: 金茂大厦; traditional Chinese: 金茂大廈; pinyin: Jīn Mào Dàshà; literally "Golden Prosperity Building") is an 88-story landmark supertall skyscraper in the Lujiazui area of the Pudong district of Shanghai, People's Republic of China. It contains offices and the Shanghai Grand Hyatt hotel. Until 2007 it was the tallest building in the PRC, the fifth tallest in the world by roof height and the seventh tallest by pinnacle height. Along with the Oriental Pearl Tower, it is a centerpiece of the Pudong skyline. Its height was surpassed on September 14, 2007 by the Shanghai World Financial Center which is next to the building. The Shanghai Tower, a 128-story building located next to these two buildings and now under construction, will be even taller.
Wikitravel adds a bit :
Jinmao Tower (金茂大厦; Jīn​mào​ Dà​shà), Century Ave. China's third tallest skyscraper stands just beside Oriental Pearl TV Tower. The tower houses the Grand Hyatt Shanghai and features a 31-story atrium that starts in the jazz lounge on the 57th story and rises up like a space station. An Italian restaurant Cucina, on the 55th floor offers spectacular views of the Bund and the rest of old Shanghai. For about the same cost as going up in the Pearl Tower, you can enjoy a gourmet pizza lunch and savor virtually the same view. There is also a restaurant on the 88th floor, which is the top floor and China's second highest visitor platform. Alternatively, head for one of the Grand Hyatt's many bars (see Drink). ¥50, ¥25 student.
I know you're eager to get back to the polluted views. So here's a final round…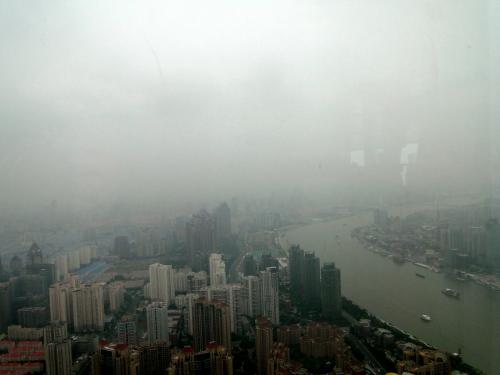 To me, this is inexcusable. To the large mainland groups visiting while I was there, there seemed to be nothing wrong, they were awe stricken. To some, probably from non-urban areas, this was the grandeur of richness and capital, the ultimate display of prosperity.
That visit, on that day, just made me feel sad.
More on Jinmao Tower Observation Desk :