Illinois, unfortunately, is not a major tourist destination with the obvious exception of the city of Chicago. It's rather flat and cold, and its history isn't as exciting as other states in the US. But, Illinois is especially proud of one thing in its history – Abraham Lincoln. Illinois even markets itself as the "land of Lincoln". Visiting Springfield, the capital town of Illinois, you'll have a lot to see and experience that has to do with the Lincoln family, starting from statues of the Lincoln family throughout the old city, the Lincoln family home, and the wonderful Lincoln museum and library. Although Lincoln was not born in Illinois, it was in Illinois where he practiced law and became a politician. His political path in Illinois was filled with challenges, and it took time for the Illinois folks to warm up to him. His story, atleast the way it's commonly told, is a tale of a humble man of principle who led a tragic life facing constant hardships in both personal and political life until finally – when things seemed to calm down a bit – finding death by an assassination. Unlike today's presidents, his life as a president back then was lived in isolation, often depression, and constant struggle.
To get to know Lincoln a bit better, it's perhaps best to start off with his personal life, and visit his neighborhood and home. Rangers in arranged tours will take you through Lincoln's home and will try to give you a feel of what the Lincoln's family life was like, mostly discussing Lincoln as a husband and father, with mentions here and there about Lincoln the lawyer, and even fewer mentions of his political career.
In the official home website, they write:
Abraham Lincoln believed in the ideal that everyone in America should have the opportunity to improve his/her economic and social condition.  Lincoln's life was the embodiment of that idea.  We know him as the sixteenth president but he was also a spouse, parent, and neighbor who experienced the same hopes, dreams, and challenges of life that are still experienced by many people.
Wikipedia has a bit more context:
The house, purchased by Lincoln and his wife, Mary Todd Lincoln in 1844, was the only home that Lincoln ever owned. Located at the corner of Eighth and Jackson Streets, the house contains twelve rooms spread over two floors. During the time he lived here, Lincoln was elected to the House of Representatives in 1846, and elected President in 1860.

Along with the Lincoln Home, several other structures within the four-block area are also preserved. All the homes have been restored to their appearance during the time Lincoln lived in the neighborhood. Two of these structures, the Dean House and the Arnold House, are open to visitors and house exhibits on the life and times of Lincoln and his neighbors. In total, the buildings included in the park occupy 12 acres (49,000 m2).
Shall we take a tour of Lincoln's home?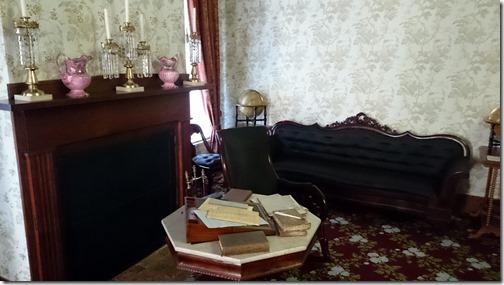 Location:
A good way to kick off your Springfield's Lincoln tour.