Of all the attractions people visit Orlando for, the Kennedy Space Center in Cape Canaveral in eastern Florida an hour away was the one I was looking forward to the most. I visited Disney World, Wet-n-Wild and a few of the other Orlando attractions back in 1989 while I was in sixth grade staying in the states with my family. Sure, I like my rides, and my renewed visit to Disney World and Universal Studios this year was terrific, but Kennedy Space Center offered one childhood fantasy I didn't get to explore that year long ago. Though over the years I've become quite cynical of the American super-power with their tales of the American dream fulfilled through space exploration, there's no taking away NASA and their Space Center achievements from them with all that it represents.
As far as museums go, the Kennedy Space Center visitor complex will blow your mind away. The guided tour around the complex and through the facilities is nothing short of perfection. There is no better way to run it. Even the patriotic heroic narrative seems to fit in nicely and I found myself tipping my hat off to them in appreciation. Their tales of the space race with the Russians seemed – as far as I could tell – fairly accurate and giving credit where credit was due. The launch simulation, the IMAX movies, it was all extraordinary. The Americans do know how to pay tribute and excite their taxpayers with dreams of the great beyond. The only thing that could have made it even better was to actually be there during a real launch, and I missed that by two days, but I was happy enough.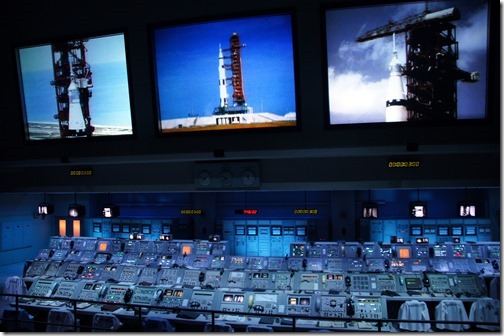 Wikipedia offers a bit of background :
The John F. Kennedy Space Center (KSC) is the United States launch site that has been used for every NASA human space flight since 1968. Although such flights are currently on hiatus, KSC continues to manage and operate unmanned rocket launch facilities for the U.S. government's civilian space program from three pads at the adjoining Cape Canaveral Air Force Station.  […]

KSC is a major central Florida tourist destination and is approximately one hour's drive from the Orlando area. The Visitor Complex offers public tours of the center and Cape Canaveral Air Force Station. Because much of the installation is a restricted area and only nine percent of the land is developed, the site also serves as an important wildlife sanctuary; Mosquito Lagoon, Indian River, Merritt Island National Wildlife Refuge and Canaveral National Seashore are other features of the area. Center workers can encounter Bald Eagles, American alligators, wild boars, Eastern Diamondback rattlesnakes, Florida panthers and Florida manatees. KSC is one of ten major NASA field centers, and has several facilities listed on the National Register of Historic Places. […]

The Kennedy Space Center Visitor Complex, operated by Delaware North since 1995, has a variety of exhibits, artifacts, displays and attractions on the history and future of human and robotic spaceflight. Bus tours of KSC originate from here. The complex also includes the separate Apollo/Saturn V Center, north of the VAB and the United States Astronaut Hall of Fame, six miles west near Titusville. There were 1.5 million visitors in 2009.
Take a look…
Find me inside…
NASA provides the following visitor map to the center :
A must visit if you're in the area!