On my last visit to Israel I was invited to go see the Da Vinci Alive Exhibition in the Tel Aviv exhibition center. This is a world traveling show highlighting some of Da Vinci's famous work and building working models based on his theoretical work. An exceptionally interesting exhibition about one of the old world's most well-known geniuses. An artist, an investor, a scientist, an architect, a musician, Da Vinci did it all, dreaming of things 300-400 years ahead of his time. 
How can you not start with the awkward Mona Lisa. The exhibition offers a first high-resolution special camera scan of the painting revealing new discoveries about a painting we thought we already know everything we could know.
Here's from the exhibition official website :
Da Vinci – Alive, a one-of-its-kind spectacular new multi-sensory exhibition on arguably history's greatest mind is coming soon/now showing for a limited time at Maxidome, Exhibition Grounds, Tel Aviv, Starting January 30th 2014. Hailed as the most detailed and comprehensive exploration of Leonardo da Vinci's work ever created, the interactive experience will immerse guests in Leonardo's timeless brilliance, through full-scale interpretations of the mastermind's creations, unparalleled studies of his iconic art and an immersive, state of the art SENSORY4™ multimedia gallery.

Demonstrating the full scope of Leonardo da Vinci's remarkable genius, Da Vinci – Alive explores the Renaissance master's many talents as an inventor, artist, anatomist, sculptor, engineer, musician and architect. Guests will enjoy over 200 unique works on display, including 75 life-sized machine inventions, high-definition animated studies of Leonardo's most notable Renaissance works and an eye-opening, in-depth analysis of his most famous piece, the Mona Lisa. Visitors will be able to push, pull, crank and interact with many of these exhibits for a hands-on understanding of the scientific principles behind Leonardo's incredible works.

In addition, visitors will be immersed inside the mind of a genius in Da Vinci – Alive's SENSORY4™ gallery. Featuring high-definition motion graphics, combined with authentic multimedia content captured in Italy, the gallery is a full-bodied multi-sensory experience, utilizing high-fidelity projections and a cinema-quality audio narrative. Da Vinci – Alive's SENSORY4™ gallery takes visitors inside Leonardo da Vinci's world, telling the story of his life and genius in an all-encompassing, full-spectrum immersive experience like no other. Da Vinci – Alive offers an entertaining, educational and enlightening experience for visitors of all ages and backgrounds, whether they are art and history aficionados or just familiarizing with Leonardo's work for the first time.

Created with the assistance of Leonardo da Vinci experts in Italy and France, Da Vinci – Alive honors one of the most revered and brilliant minds of all time. The exhibition features twenty compelling themed areas of Leonardo's work, providing visitors with an unrivalled exploration inside the mind of the ultimate Renaissance man, who laid the groundwork for some of modern society's most notable inventions, such as the helicopter, airplane, automobile, submarine, parachute and bicycle.

All of the inventions brought to life for Da Vinci – Alive were meticulously crafted by Italian artisans, many using the same techniques and materials from the Renaissance period. Scouring more than 6,000 pages from Leonardo da Vinci's personal codices (notebooks), the artisans deciphered hidden clues, intentional mistakes and mirror-image writing that Leonardo employed to keep his works top secret.

One of the most illustrious components of Da Vinci – Alive is the Secrets of Mona Lisa exhibit, featuring the findings of French scientific engineer and examiner of fine art, Pascal Cotte. Granted unprecedented access to "Mona Lisa" by the French government and the Louvre Museum, Cotte was permitted to take Mona Lisa off the wall and out of its frame to conduct a scientific analysis that revealed dozens of secrets about history's most elusive art piece, all verified and approved by the Louvre Museum curators over a two-year period. The exhibit showcases Cotte's studies and 25 of his most compelling discoveries, illustrated by 40 super-magnified, high-resolution sectional images, exploring every aspect of the work.

Visitors of Da Vinci – Alive are invited to embrace the history, theory and objective behind each of Leonardo's designs and artworks through engaging and entertaining technologies. Other highlights include reproductions of "Virgin of the Rocks", "The Annunciation", the controversial new Leonardo discovery, "Bella Principessa", amazing anatomical sketches, the prepatory drawings of the "Anghiari Battle" and high-definition presentations of "The Last Supper", "The Vitruvian Man" and the "Sforza" equestrian sculpture which offer never-before-seen perspectives on these famous works. Guests will also enjoy a glimpse into Leonardo da Vinci's mysterious alphabet and writing techniques as they browse digital interpretations of his actual codices on interactive touchscreens. Da Vinci – Alive was developed by Grande Exhibitions in Australia, under the kind auspices of the Commune di Roma, Commune di Firenze and Citta di Venezia, with the kind assistance of Pascal Cotte of Lumiere Technology, France.
Towards the end is an impressive hall with huge screens and moving images of Da Vinci and his work…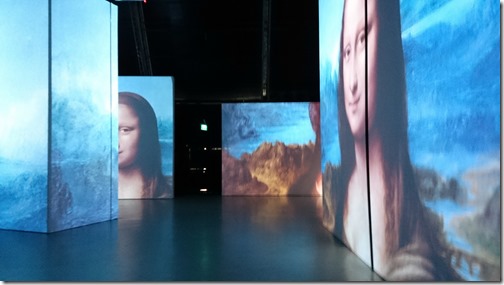 As you enter, Da Vinci's instruments come alive…
Some of them extremely innovative and groundbreaking for the period. If the show travels to a location near you, be sure not to miss it.