One of the best historical attractions in Saint Augustine – America's oldest city – is Castillo de San Marcos, the oldest fort in the US. It dates back to 1672 and was built to defend the Spanish colonialists from sea invaders. Throughout the years, it has served the Spanish, the British, and then finally the Americans, but in all that time – it has never been defeated.
It's really a wonderful tourist experience. Once you leave your car at the tourist information center, a few minutes walk away and you'll see the fort in full glory. Inside, you can join one of the guided tours and watch a ceremony where they prep up and fire a canon.
The Saint Augustine website offers the background :
St. Augustine's most historically significant structure is the Castillo de San Marcos, a fort constructed by the Spanish between 1672 and 1695.[…]

The Castillo has never been conquered despite attacks by English General James Oglethorpe who attempted to subdue the town in 1740. Firing from the tip of Anastasia Island, he found his cannonballs were no match for the unusual consistency of coquina which absorbed the blast rather than crumbling. […]

Since the beginning of its construction in 1672, the Castillo de San Marcos has played an important role as a strategic military post in the New World. Many flags have flown during the Castillo's illustrious history, including the Spanish (1695 – 1763) the British (1763 – 1784), the Spanish again (1784 – 1821), the United States of America (1821 – 1861), the Confederate States of America (1861 – March of 1862), and finally the United States of America again (1862 – 1900). Changes in occupation of the fort came about only through military agreements or political treaty. Amazingly, the Castillo was never taken by force.
It's a rather small fort, but every room has something for you to see. The highlight, no doubt, is the canon firing ceremony…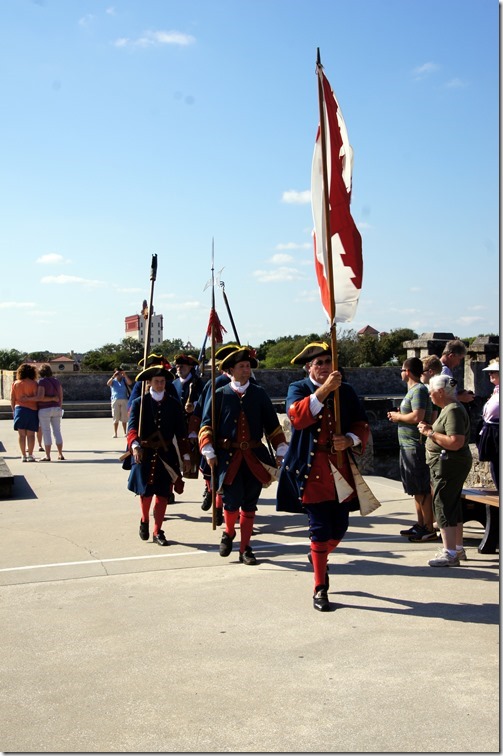 A great way to start your historic tour Saint Augustine day. If you're in town, this is a definite must.