Been contemplating what and how to write on this for a while. In the time since I went on the Breaking the Silence tour to Hebron, Breaking the Silence has received wide media attention in Israel as right-wing Israeli politicians who now form the presiding government wage media and legal war against its heads. When I went on this tour, and more generally when I travel and write about my travel, I shy away from politics. It's not that I don't have an opinion, it's hard not to have an opinion, but after decades of going through this political mess, I am thankful that my world travels have allowed me precious moments when I am not forced to contemplate and discuss this situation. In one of my recent travels to Israel I thought of the irony that I've been roaming around the world for over ten years, and yet I have not taken the time to cross the invisible border from Israel to the West Bank to try and see things for myself. There were always excuses, but the bottom line fact was that I have not been to the Palestinian territories while almost every one of my international friends visiting Israel included that on the tour. Since I can't just travel the Palestinian territories as a regular tourist, I looked for a different approach, and this is when someone offered I join a tour by Breaking the Silence. Up till that moment, I was completely ignorant of the organization and its goals, and my quick search and signup online didn't come up with much. When I told people I'll be joining this tour, some responded – to my amazement – as if I was doing this as a political statement, while my main goal was to observe, experience, and learn. Often time, we tend to avoid experiencing and learning because of worries of how things might appear to others, or in some distorted thought that we already know what it's going to be like. Nothing has ever been exactly what I thought it would be. Especially, when it comes to cross-cultural experiences.
So, I'll just tell you about what I saw and experienced, and I urge you to do the same trip yourself to see what you would see and experience.
I'll start from the end. The highlight of the tour was the opportunity to meet a Palestinian Hebron family, or rather, a man. He told us the tragic story of his family as Palestinians living in Hebron. Some of the stories were about the perceptions and experiences of living under military occupation, but the most disturbing stories were about the aggressive interactions with the settlers. It would come as no surprise that the stories were bleak, very bleak. He has probably told this story hundreds of times to many different groups, yet it did not feel rehearsed and the disappointment and hurt were communicated very effectively. Especially so, because this was the end to a very uncomfortable unsettling tour through the Jewish military controlled area where the settlers he was referring to were not only aggressive and abusive towards the Palestinian population, but first and foremost – aggressive and abusive towards the tourgroup.
To give you a general feel of what was going on, you might want to take a look at this video:
I did not expect this, but the tour started from the Khana "tourist park", named after a controversial militant right-wing extremist who was assassinated in 1990, proclaimed as a hero.
We were brought there to see the tomb featured in this next photo, referring to an Israeli terrorist Baruch Goldstein as a holy man (I won't translate the rest, but suffice to say I believe the absolute majority of Israelis would find this very disturbing).
Now, you can say what you want about these two monuments, I won't go into the politics and morality of this whole thing. What I will comment about is that from the first second we came out of the bus, we were joined by a large group of settlers who were wearing flags of Israel and carrying around mega-speakers and cameras. I was not prepared for this kind of engagement, but the tour guide asked us to try and remain calm and passive no matter what they do, and it was a very hard thing to do. Some of the group members snapped a couple of times, because the settlers pushed their mega-speakers into our ears and yelled right-wing political propaganda nonstop. The leader of the settlers explained that he was happy to use our tour to show the Israeli tourism to Hebron and once surrounded by all these Israeli flags our group and mega-speakers yelling settler slogans to the cameras taking videos to any side observer it seemed as if we were a very large right-wing group. There was no way for us to escape it. There was no way for our tour guide to say much, as his voice could not override the noise that the settlers were making.
These guys followed us everywhere, and with every small subgroup, there were atleast three four settlers assigned to us, with two carrying huge flags, one being very loud and abusive towards our guide, and one recording everything the guide said in hope that this can later be used as either propaganda or to somehow prevent future groups from coming in. This is not a hypothesis or my own interpretation of things, the settlers were very clear to articulate why they were doing this.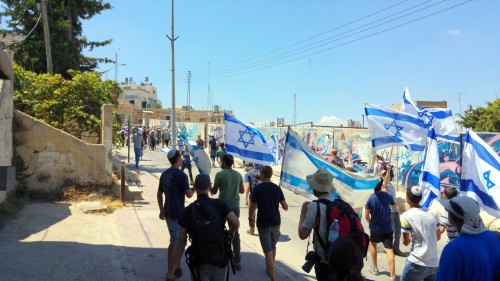 Got to hand it to them, the settlers are anything but stupid. They are extremely well organized and well prepared, and they were very effective. They are able to maintain strong links with the soldiers posted there by offering food and drinks, or just a friendly gesture and smile. The lead organizing settler knew all of the soldiers names by heart, to the lowest ranks, it was quite incredible to observe.
Finally, and there was no way for this to end any other way, there was violence. After following us the whole tour, the end point before meeting the Palestinian family there was a settler lady who lost her husband at that spot who objected to us visiting and proclaimed us and the tour as traitors and a disgrace. She cried, and pushed, the settlers made a lot of noise, military and police came, and it turned into a big mess, where our guide was somehow caught in the middle unable to escape the situation. The only solution came through aggressive separation, we were ordered and escorted to leave and conclude the visit, and so we made our way to the Palestinian family without seeing the area. There were so many video cameras and mobiles taking videos that I'm sure there are lots of these videos all over Youtube, and this was not the only problematic moment. If anyone around the world thinks that these settlers represent Israel and that all Israelis are of the same mind, then all you need to do is watch these videos to see the very big divide between the settlers and the visiting group. Even if you think Breaking the Silence are a problematic political movement with an agenda, I see absolutely no excuse for violence, and in this regard Breaking the Silence behaved without flaw, unlike the settlers.
It's important to point out, if you consider me at all objective, that at no point at any time of the tour, did the guide or the tour did anything to provoke or address the settlers. The only reaction to the aggression by the settlers was to remain passive, almost impossibly so. Breaking the Silence seems to have had enough experience with the settlers to see how any other response could abrupt to a much wider crisis. Which finally resulted in me feeling abused, humiliated, and utterly depressed. There was not much need for the Palestinian man to say much, the settlers made the strongest argument for his message.
All that aside, what about the goal of seeing Hebron? I did get to experience a bit of that, when the settlers allowed the guide to say something. Since I was in the military sealed area, it would come as no surprise that there were no Palestinians there, and it all looked like a war zone. What do I mean? take a look…
I honestly can't imagine what it would be like to live in such a reality. Crazy.
There's much more to tell about this tour, but I'll conclude with the suggestion that you go see things for yourself. Hopefully, your experience would be less unpleasant than mine. I can't really see how anything would really change for the better any time soon, but I'll try and remain hopeful that this ridiculous and tragic mess would one day change for the better.