Suzhou is famous for its canals. There are ancient Venetian style canal streets in Suzhou that date back 1200 years – Pingjiang (平江路) and Shantang streets (山塘街) and offer a glimpse of Suzhou's former grandeur. Many of the famous Chinese poets and painters have works of art dedicated to the beauty of those Suzhou canals.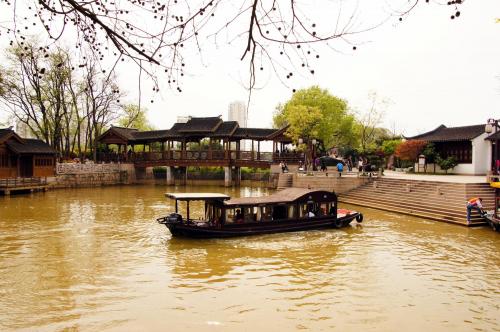 Unfortunately, in my personal view not much remains of that former beauty. Though the concept of water flowing through a city sounds nice, it doesn't apply to the situation where the waters are toxic and smelly and the boat tours are blasting with noise, combining fast Chinese screaming and elevator cliche folk Chinese music. Though it was relatively empty, the experience felt touristic and commercial to the extent of it almost being unbearable.
Honestly, not my favorite visit to a Chinese city, but I'm already used to disappointments in China.
When the boat did finally stop somewhere that's not a shopping tourist trap, it was a try at an historic folk village…
They even had a performance waiting for us of some 'local folk music'.
See the video here :
And the compound did have some ancient gates to look at …
Nanjing was great, Suzhou not so much, but when it's new and different – it's all good fun. I'd advise those visiting to lower expectations and prepare for Chinese style touristic commercialization. Do prepare in advance some patience and a sense of humor.